In today's technology scenario, where connectivity and efficiency are paramount, managing network devices in the customer's home, such as routers and ONTs, becomes a crucial task for internet providers. Whether it's ensuring security or simplifying troubleshooting, how you manage your router in a customer's home can make a big difference. And that's where the TR-069 protocol stands out, especially on top of the equipment's web interface.
We are going to analyze the differences between the management of the router via the web interface and the TR-069 and present three undeniable advantages of the TR-069 that will make you want to use this protocol, in addition to practical examples in which the web interface is less advantageous.
What is TR-069?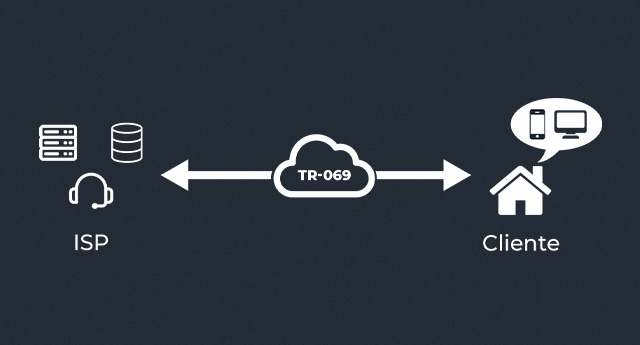 TR-069, also known as CWMP (CPE WAN Management Protocol), is a technical protocol that enables remote communication between the ISP and the customer's router. With it, it is possible to manage, configure and diagnose problems in network devices.
Advantages of the TR-069 over the Web Interface
1. Automated management
The first and most obvious advantage of the TR-069 is its automated remote management capability. This means that adjustments to provider base CPEs can be done efficiently without the need for travel or technical support, saving time and resources.
2. Mass settings and updates
The TR-069 allows you to configure and update multiple devices at the same time. Imagine having to access each router's web interface to perform an update. It would be a tedious and time-consuming process.
With the TR-069, updates and configurations can be carried out in bulk, in a practical and fast way, without the need for manual intervention in each piece of equipment.
3. Proactive diagnosis
The TR-069 has the ability to perform proactive diagnostics, allowing you to identify potential problems before they cause outages. With the web interface, diagnosis is only possible when the problem has already occurred, which can result in downtime and frustration for the user.
For example, the Wi-Fi monitoring provided by Flashboard, by Anlix, allows the provider's service team to perform a proactive service, that is, to contact the customer who is experiencing Wi-Fi performance problems even before he registers a complaint or even a cancellation request.

4. Security
The TR-069 protocol offers a number of security benefits for ISPs that manage their routers through this protocol, compared to using traditional web interfaces. Here are some of them:
Secure authentication between the management server and the router, ensuring only trusted devices and servers can communicate. This helps prevent spoofing attacks or intercepting sensitive data during communication.
Encrypted communication between the management server and the router, ensuring transmitted information is protected from unauthorized access.
Centralized management, which reduces the exposure of individual web interfaces and eliminates the need to open ports on routers for remote access, minimizing potential security vulnerabilities.
Facilitates distribution and management of firmware updates and patches of security for the routers, correcting vulnerabilities and maintaining the security of the system.
Continuous collection of router performance and status data, enabling ISPs to monitor the network and detect security anomalies so corrective measures can be taken quickly.
Remote troubleshooting of routers without the need for physical intervention on the devices. This reduces exposure to security risks associated with physically tampering with routers.
Practical examples: Web Interface x TR-069
1. Implementation of new settings
Suppose you want to implement a new security configuration on all routers in your network. Using the web interface, you would have to access each router individually to make the change, a time-consuming and error-prone process. With the TR-069 protocol, the provider can apply this new configuration at once to all routers, saving time and minimizing the possibility of failures.
2. Troubleshooting
The TR-069 makes troubleshooting easier compared to traditional router web interfaces. ISPs can remotely update firmware, configure security parameters, and diagnose connectivity issues. Additionally, they can monitor network traffic in real time to identify threats. This simplifies the resolution process, saves time, and improves network security.
In short…
Management through the web interface

It requires a manual and individual effort for each CPE, which can become laborious and consume precious time;
You have access to the data only at the specific time you access it, without the possibility of continuous monitoring;
Accessing the CPE can still expose your network to potential security risks, making it vulnerable to attack;
It can present challenges with different interfaces and languages, making management a complex task.
With the Anlix TR-069

Have automated and bulk tasks, saving time and effort and increasing operational efficiency;
Have the differential of continuous monitoring and real-time data, allowing you to always be up to date with the state of your CPEs;
Ensure the security of your CPEs. We follow industry best practices, with the help of our experts;
Interfaces in Portuguese and intuitively that make managing your CPEs a simple and easy task.
Bearing in mind the advantages of the TR-069 and the practical examples cited, it is clear that this protocol offers a more efficient and optimized way of managing routers when compared to the web interface.
Therefore, if you are not already using the TR-069, fill out a quick form below and start testing our management and monitoring platforms right now on your base.